Message in a Bottle (7)
Welcome to Message in a Bottle (7), the a store for the material in the sixth Flotsam and Jetsam e-Newsletter from Farnham U3A.
It doesn't matter if you deleted the e-Newsletter – the important bits are here!
From your editors:
Bubbles
Some of us will have been celebrating with our 'support bubble' over the past few days. Those living alone may have felt lockdown most keenly so to see, and be close to others we love is very welcome.
With all shops reopening, what we used to consider 'retail therapy' for us, is now greatly needed for the retailer as well. Local shops in particular will appreciate your support. Places of worship also reopened this week, again under new conditions, but we are gradually decompressing which is a great relief.
Whatever our interests, we'll all find pleasure in a return to the freedom we used to take for granted.
Notices:
Committee Volunteers
To keep Farnham U3A viable and operating successfully, I need again to ask for your help as several Committee members will be moving on in the coming months.
As shown during lockdown, we are fortunate to have experienced and enthusiastic Group Leaders and Secretaries to deliver our diverse programme. They are supported by a small but committed management team (your Committee) to ensure that we continue to flourish and develop.
I am sure that many of you have skills and experience to enhance the efforts of the Committee, especially if you are comfortable using email, word documents, spreadsheets etc. and enjoy working within a small friendly team. If interested, click here to contact me.
Mike Love, Chair.
Groups on the go:
Painting
A picture paints a thousand words and there is still time to visit the two Art Exhibitions staged by our Painting groups; the links are below:
Wanted – Zoom Hosts
Many of us didn't even know about Zoom when lock-down began. Now, three months later, have developed our 'Zoom Skills' and use it regularly.
Some groups, however,  would like to adopt it but don't have the skills and need help.  Could you schedule, host and control a Zoom meetings for another group? You'd share material on the screen whilst leaving the Group Leader free to focus on the content and agenda.  If so, please contact Malcolm Ellis.
Groups survey request – Group Leaders and Secretaries
A MASSIVE THANK-YOU to those who responded to my recent survey request and also for your efforts to keep Farnham U3A active. Your survey response was exceptional with 82% of groups replying, this information is invaluable as we begin to plan the autumn term. Of the groups who responded 46% are continuing to hold their meetings using Zoom and of the remainder, many are using other means to keep their groups active, learning and socialising.
It's still impossible to accurately predict what September will bring, but as lock-down measures continue to ease, I'm hopeful of putting some positive plans in place in the next month or so. Be assured, your committee is determined to keep Farnham U3A thriving.
Best wishes and keep safe – Malcolm Ellis (Groups Coordinator)
Cabin Fever?
When the Tales of Our Lives group discussed lockdown life via Zoom last week, travel was identified first as what they would have been doing were it not for Covid-19. The loss of family time and freedom of choice were the two great challenges for most group members.
They said lockdown positives were more exercise, improved IT, DIY and gardening skills, plus the slower pace of life and the simple joy of nature.  As restrictions ease the group
hoped society would emerge as more caring with a greater appreciation of essential workers over celebrity.
A fruitful and thought provoking discussion. How have you fared in lockdown? Please follow this link to tell us. 
Armchair Culture
Watts Gallery Artists' Village
This local Gallery has recently launched a brand new programme called 'Watts at Home'. You can go on virtual tours of the exhibitions, learn about the collections and participate in tutorials. There will be activities for the whole family to take part in, so it's time to get creative. For more information visit the Watts Gallery here.
Live from the British Museum
Follow this link to the British Museum and find 11 ways to visit the British Museum
from Home. You might be interested in Vikings Live or making a virtual visit to London Landmarks You can explore the collection, see Objects in 3D and, possibly the most popular item, you can watch the film and take a special tour of the 2013 exhibition 'Life and death in Pompeii and Herculaneum'.
Curious Minds from the Department of Continuing Education at the University of Oxford
Give your brain a workout, visit the world's museums, libraries, language centres and more – all from home. The material will change regularly with the featured Tutor Takeover being updated every other day. You can also signup for a newsletter to keep you updated about new material. Find out more at Curious Minds.
The National Theatre
The National Theatre has extended its season of streamed performances, each one is only available for seven days. You can see:
The Madness of George III – the story of the King's increasing eccentricity and how ambitious people threatened to undermine the Crown. Premiered on Thursday 11th June and is available until 18th June – so you'll need to hurry to catch it!
Small Island – based on Andrea Levy's novel tracing the history between Jamaica and the UK through the Second World War to 1948. This premiere's at 7 p.m. on 18th June.
A Midsummer Night's Dream – an immersive production of Shakespeare's comedy. This premiere's at 7 p.m. on 25th June.
The link to the National Theatre at Home is here.
Armchair Travel:
Travel Insurance Advice
If you are worried about your travel insurance, maybe worrying about Coronavirus cover or you're trying to get a refund for a cancelled holiday, follow this link to the Money Saving Expert website where they have put together a guide to the many questions that they've been asked.
Virtual tours
What happens to a travel company when you can't travel? Well if you are Flight Centre you keep your customers dreaming.  How about a visit New Zealand although the borders are closed? Fancy seeing Uluru in Australia? Feel like going on Safari in Kenya? Do it all in the comfort of your own home – no flights, no passport, no inoculations – and its free! Follow this link to travel.
A couple of things to do in the family bubble
Now that some of us can be with our grandchildren, here are some things that might interest them.
Queen Mary's Dolls House Even though the physical site is closed at Windsor Castle you can find out a great deal about this amazing dolls house here. Maybe an opportunity for some research to prepare yourselves for when things open up.
What about a spot of cooking? We return to the Tiny Kitchen for more bite sized cooking.
Note: lasagne or lasagna? In America they're interchangeable but in Italy a single sheet is 'lasagna' whereas the dish is 'lasagne' because that's the plural and a dish is made up of many sheets of pasta.
Fed up with the Armchair and ready to venture out?
Face Masks
Face masks are now 'a thing' for shopping or on Public Transport – now a must ton
Tubes, trains and other shared-use transport, plus taxis and private hire vehicles
. Whether you want a sober fabric or more of a fashion statement someone, still needs to make them.
Make your own – there are various websites that give all the information that you need, the BBC website has clear instructions or the UK Government website has details here.
Support a local – when two former refugees sought a new life in the UK, little did they realise they'd form part of Farnham's post lockdown strategy.  Afghani Baz and Syrian Zam earlier this year merged their tailoring skills at Natty Tailoring in South Street, Farnham. and started their business earlier this year. If you can't sew, this is a handy and worthy option and we've tried them.
Wearing and washing your mask – it should cover your mouth and nose allowing you to breathe easily and you should wash your cloth mask after every use. It can go with your other laundry using your normal detergent.
The scammers are hard at work!
This time we're looking at information from the Buckinghamshire and Surrey Trading Standards who've seen a 40% rise in Coronavirus related scams. Some examples include:
Fake NHS and care provider lanyards – bought online so that fraudsters can gain access.
COVID-19 – voucher scams, phishing HMRC emails and texts offering a tax refund to help during the virus, or a fine for you leaving the house
Unsolicited phone calls insisting you buy a face mask because 'the Government says so'
Fake charity collectors (yes, really!)
Social media quizzes – cyber criminals use your answers and personal data to hack your accounts
Fake healthcare workers offering 'home-testing' for Coronavirus
Thieves offering to shop for the elderly but really, keeping the money
Covid 19 Test and Trace scams.
So, what do I do?
Be sceptical. Don't be afraid to hang up, bin it, delete it or shut the door.
Take your time. Don't be rushed.
Know who you're dealing with. If you need help talk to someone you know or get in touch with Trading Standards.
If you are online, be aware of fake news and use trusted sources such as gov.uk or nhs.uk
Be aware of advice online – only seek medical advice from qualified doctors.
Protect your financial information, especially from people you don't know.
Do not give money, your bank card or PIN to a stranger.
Never engage with someone or let anyone you're not expecting or don't recognise, into your home, unless you are able to verify their authenticity and who they are.
You can get more information here.
For further consumer advice, to report a scam to trading standards or request a scam pack or No Cold Calling pack, please email trading.standards@surreycc.gov.uk or call 01296 388788.
Remember, if it sounds too good to be true it usually is – report anything that looks like a fraud or a scam to Action Fraud online or phone 0300 123 2040
If you need help with anything contact those you can trust or the Farnham & Villages Coronavirus Helpline on 01252 745446 (Monday-Friday from 9am-6pm) or email to help@farnhammaltings.com
Resources
We're all having to learn new skills with technology, hopefully we can help.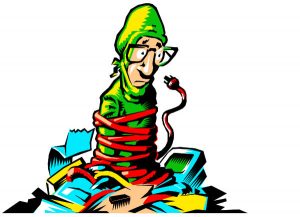 Please don't let it get to you like it got to Joe!
Surrey County libraries have extended their collection of e-books and e-audiobooks. Available to all Surrey library members – more here
The Zoom Guide below has helped members connect. Feel free to read it and circulate it to others. The guide was updated on 28th May 2020.
Tip for joining an online meeting: please sort out the software and your computer / tablet / 'phone before the meeting. This is because the meeting host can't tutor you during the meeting!
Community Tips
The Town Council, along with the Maltings and the Farnham Herald, has produced a useful fact-sheet full of help and advice for residents of Farnham and villages which is worth printing.  Click here.
About this post:
The Farnham U3A site is found at Farnham U3A Home Page.
Please use this material to help you through the lock-down.
Posted by The MrT Podcast Studio for Farnham U3A – 2020